ReadyClickAndGo – Terms and Conditions
Your Booking Agreement with ReadyClickAndGo, and our Suppliers.
Please read these booking conditions carefully as they are the sole terms and conditions of the contract between you and our suppliers, for all bookings made from the ReadyClickAndGo Website. These terms and conditions apply equally to UK resident bookings as well as other worldwide resident bookings.Note carefully, as per clause 9 below, that we act as an agent only under your contract with us in respect of all bookings we make on your behalf with our various suppliers. The supplier's booking conditions will apply to your contract and we accept no liability ourselves.The Package Travel, Holidays and Tours Regulations 1992 do not apply to any booking you make and we do not act either as an 'organiser' or offer for sale 'packages' within the meaning of the Regulations. ReadyClickAndGo does not represent or warrant that the information and terms and conditions available on this site are appropriate and/or available for use in other jurisdictions and access to the to the site's information and terms and conditions from jurisdictions where its contents are unlawful is prohibited.You may only use this site for lawful purposes and in accordance with these terms and conditions. The person making the booking shall be deemed to have accepted the booking conditions on behalf of all the persons named in the booking. A binding contract exists between you and our suppliers when we send your invoice on the supplier's behalf to the person making the booking; the terms and conditions of the relevant suppliers will then apply.
Terms & Conditions
1. Prices and price changes
As we act only as agent for our suppliers, we and our suppliers reserve the right to change, amend or correct prices shown on our site at any time before or after you have booked. After you have booked, if the price of your booking changes in such a way we will pass on the details of the change as soon as possible.
2. Changes made to your booking
We and our suppliers will do all we can to tell you of any significant changes to your arrangements. If you do not wish to accept the change, if they can our suppliers may offer you an alternative arrangement with an alteration in price or otherwise the booking will be cancelled subject to the charges set by the supplier. As agent only for the supplier we are unable to accept any liability for any changes, significant or otherwise, to your booking.
3. Circumstances beyond our or our supplier's control
No compensation of any kind or responsibility can be taken if, due to circumstances beyond our or our supplier's control, we have to notify a change to your arrangements after departure, or we or our suppliers cannot supply your arrangements in full or in part as agreed, or you suffer any loss or damage of any description. A circumstance beyond our or our supplier's control is one that cannot be foreseen or avoided, even after taking all due care and includes but is not limited to war, terrorist activity, civil unrest, industrial disputes and bad weather situations or forecasts.
4. If You Have a Complaint 
If you have cause for complaint whilst on your trip, this must be brought to the attention of the relevant supplier immediately so that action can be taken to remedy the problem. Failure to report your complaint in this way may jeopardise any claim you subsequently make. Complaints must also be notified to the ReadyClickAndGo Ltd Customer Services Department within 35 days after the end of your trip. The assistance we provide to resolve your complaint is provided on behalf of our suppliers in our capacity as agent only.
Our Customer Services Manager is Tara Goldsmith, please email her at tara@readyclickandgo.com, telephone 01494 461234, or write to 18 The Crescent, High Wycombe, Bucks. HP13 6JY. This address is for post only, and not for personal visitors.
5. Prices and Payment
We accept Mastercard, Visa and American Express. ReadyClickAndGo Ltd does not charge a service fee for processing credit card payments. Full payment by credit card is required to make a reservation. Payment will be listed as ReadyClickAndGo Ltd on the credit card statement.
Prices are per person, unless otherwise specified. Prices are based on the local tariffs at the time of quoting converted at the prevailing foreign exchange rate. All taxes and charges are included in your tour price.
Price quotations are subject to change without notice until a booking has been confirmed. Bookings can be made online up to 3 days before participation, but it may be possible to make a booking just 1 day in advance if you email us.
6. Special Requests
Please check with us when you book if you wish to make a special request for any service or facility that is not automatically part of your booking. We will ask our suppliers and where possible they will try to help but please note such requests cannot be guaranteed.
7. Changes after booking but before travel 
Please check your booking details carefully to ensure that any related flight and/or other arrangements coincide with the dates you have booked with us as we will not be liable for any costs incurred as a result of any mistakes by you. It is your responsibility to check that you have booked the correct tour for the correct date and time and for the correct number of people. Should you notice any errors in your booking you should contact ReadyClickAndGo Ltd immediately, email our Customer Services Manager Tara Goldsmith at tara@readyclickandgo.com
Should you wish to transfer your booking to another person, please note that ReadyClickAndGo Ltd  will charge an administration fee of £10 to do so. Please email our Customer Services immediately should you wish to do this.
8. Cancellation by you 
If, for any reason, you decide to cancel your confirmed bookings, your credit card will be credited with the appropriate amount as per the cancellation policy applicable to that tour. Please email our Customer Services Manager Tara Goldsmith at tara@readyclickandgo.com immediately should you wish to cancel, and we will advise you of the total cancellation fees applicable at that stage. Cancellation charges will apply according to the individual supplier's contracts, but no cancellation charges are imposed at all if you cancel more than 8 days before the tour.
9. Our liability to you 
We act only as a booking agent for the relevant supplier of any service in the booking and we have no liability of any kind whatsoever to you or your party or dependants for any death, personal injury, loss, consequential loss or damage of any kind you or your party or your dependants may suffer unless caused by our own negligence. ReadyClickAndGo Ltd, our employees or agents are acting either as agents for the relevant supplier or as agent for you and your party. ReadyClickAndGo Ltd, its agents and suppliers also accepts no responsibility or liability whatsoever for any government restraints, acts of war and terrorism, weather conditions, or for any misadventure or casualty or any other force majeure or causes beyond their control as set out in section 3 above. Subject to the terms and conditions on this site, ReadyClickAndGo Ltd's liability shall be limited to up to the price paid for the booked arrangements.
10. Supplier's Conditions 
You are bound by our suppliers' own booking conditions and conditions of carriage where relevant and these conditions apply to your contract with us. In the event of any conflict between the supplier's conditions and our own, our supplier's conditions will prevail provided they are valid and enforceable, otherwise our conditions will prevail. Our supplier's conditions may limit or exclude their and our liability to you and they may be subject to international conventions. Copies of the relevant parts of these terms and conditions are available on request from ourselves or the supplier concerned.
11. Travel Voucher(s):
ReadyClickAndGo Ltd will send you a confirmation email once payment has been received from you, and all details of your tour have been confirmed by the local operator, around 48 hours after booking. This confirmation email serves as your travel voucher and should be taken with you to show your guide at the start of your tour. The Lead Traveller, the person who made the booking, is also required to present valid photo identification, bearing their name.
12. Travel Insurance 
It is a condition of our contract with you that you and all members of your party have suitable and sufficient travel insurance to cover your journey as neither ReadyClickAndGo Ltd nor our suppliers can be held responsible for any liability, expenses or losses you incur as a result of being inadequately insured. We strongly recommend that at the time of booking a comprehensive travel insurance policy is purchased.
13. Passports/Visas and health requirements: 
It is the responsibility of all passengers, regardless of the passport they hold, to check with the appropriate consulates to determine if any visas are required. As visa and health requirements are subject to change without notice, it is recommended that verification prior to travel be made of existing foreign visa and health requirements. We will have no liability to you if you or any passenger travels without the correct passport or visa or health requirement and you will have to pay to us any costs we incur through assisting you.
14. International Conventions 
If any international convention applies to or governs any of the services or facilities supplied by us on behalf of our suppliers, and you make a claim against us of any nature arising out of death, injury, loss or damage suffered during or as a result of the provision of those services or facilities, our liability to pay you compensation and/or the amount (if any) of compensation payable to you by us will be limited in accordance with and/or in an identical manner to that provided for by the international convention concerned (in each case including in respect of the conditions of liability, the time for bringing any claim and the type and amount of any damages that can be awarded). International Conventions which may apply include in respect of carriage by road, the Geneva Convention 1973. For the avoidance of doubt, this means that we are to be regarded as having all benefit of any limitations of compensation contained in any of these conventions or any other international conventions applicable to your travel arrangements.
15. Information Accuracy
We and our suppliers check facts about the travel product offered to ensure accuracy. When we are told in advance of a significant change to a booking, we will make every effort to notify you before you travel. Please note all duration times given are approximate and may be dependent on traffic and weather conditions beyond our control.
16. Your responsibility
Please note you are responsible for your and your party's actions. If we or our suppliers believe your actions or those of your party could cause danger, upset or annoyance to other customers, guests or staff, we or our suppliers may end your booked arrangements immediately. In this event neither we nor our suppliers will pay compensation, make refunds nor pay any expenses you suffer as a result.
17. Health and Safety
The health and safety standards that apply to the services you have booked should meet the local standards applicable to the booked destinations, and ReadyClickAndGo Ltd monitors wherever possible that local standards have been met. However, note such standards may be lower and vary widely across our programme and may not match those prevalent in the UK or elsewhere. If you have a concern with any safety standards you come across, you must take this up with the supplier in the locality concerned at the time of your tour.
18. Jurisdiction
These terms and conditions of use are subject to the jurisdiction of the English courts and are governed by English law.
19. Regulatory information for ReadyClickAndGo Ltd
Registered address;
18 The Crescent, High Wycombe, Buckinghamshire HP13 6JY, England
Company registration number;
6603301 at Companies House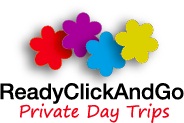 ---
Last Updated Monday, 7th July 2014.