ReadyClickAndGo – Privacy policy
This is the privacy policy of ReadyClickAndGo Limited, registered office  The Crescent, High Wycombe, Bucks. HP13 6JY.
ReadyClickAndGo understands and respects the importance of your privacy and visitors to our website can be assured that the protection of privacy is given the highest possible priority. All personal information that we collect is used and held to comply in every way possible with the Data Protection Act 1998. ReadyClickAndGo only obtains personal information from you if we ask for it and you provide it to us. Please read on to understand how we use the information you give us before using the ReadyClickAndGo web pages. Please note use of the ReadyClickAndGo web pages and services is conditional upon you agreeing to be bound by this privacy policy.
The information we collect
Personal information is collected when you book a tour from our website, as well as when you contact us about a tour either by email, letter, fax or phone. We also collect personal information from you from any online registration you make with us. The information we collect includes your name, address, age, sex, email address, telephone number. However, in order to communicate with us or book a tour it is necessary for you to disclose personal information. We use this information to facilitate the provision of services that you have booked through us, or to answer any questions that you raise with us. If you do not provide your personal information we may be unable to answer your query or fulfill your booking.
We or our service partners may from time to time send you information about our new tours or services so that we may improve our service to you and other consumers, or newsletters, surveys or competitions. If you do not want ReadyClickAndGo to contact you for such purposes please ensure you untick the mailing list tick box on registration. You can access and amend, if required, your personal data by clicking on the My Account tab at the top of the page, and logging in with your email address and password.
No other collections of personal information will occur without your consent.
How we protect your information
We will endeavour to take all reasonable steps to keep secure any information which we hold about you, and to keep this information accurate and up to date. We use industry-standard encryption protocols when transferring and receiving your personal information exchanged with our web pages. When you transfer personal information to us we require that a 'secure session' first be established using Secure Socket Layer (SSL). However, no data transmission over the internet can be guaranteed to be 100% secure, so we cannot give an absolute assurance that the information you provide to us will be secure at all times. ReadyClickAndGo will not be held responsible for events arising from unauthorized access to your personal information.
Your personal information is stored on a secure server that is not accessible by the general public. We have put security measures in place at our administrative centre to protect against the loss, misuse or alteration of your personal information by our employees or other parties. 
Cookies
We may, from time to time, use 'cookies' to store your preferences, record session information and collect information on how you visit and access our web pages. We collect information on the web pages you visit in order to help us to improve our services. 'Cookies' are pieces of information that our web page transfers to your computer's hard disk for record-keeping purposes. Cookies can make the web more useful by storing information about your preferences on a particular site. The use of cookies is an industry standard and many web sites use them to provide useful features for you. Cookies themselves do not personally identify you, only your computer and when you visit our web pages you are free to remain anonymous.
Third parties may also sometimes be used by us to perform some tracking functions using our cookie information, although your name and contact details will not be disclosed to them. These third parties are carefully selected by us and can help us monitor the effectiveness of our site by looking at how many times you visit us or our competitors' sites, which of our pages you browse and search the most and which tours you book.
How We Use Your Personal Information
We use your personal information to enable us and our service partners to provide you with the information you request about our tours, to fulfill your bookings and to ensure you are correctly billed. The personal information we collect from you will be shared with our service partners who are involved in fulfilling the bookings you have made from us. Please note information may therefore be supplied outside of the UK and the European Economic Area, and the USA. We do not share your personal information with third party organizations who are not involved in fulfilling the bookings you have made from us, without your consent, except where such disclosure is required by law. 
Third party websites
ReadyClickAndGo is not responsible or liable for the content of or privacy policies of other web sites to which this site may link.  In order to view PayPal's Privacy Policy please click here
Changes to this Policy
As statutory and online requirements change so this policy document may change. Any changes will be highlighted across the site to ensure that all readers have the opportunity to respond to these changes. 
Contact the Data Controller
If you have any questions regarding our Privacy Policy or you would like a summary of the personal information we hold, or would like to be removed from our database send an e-mail to sales@readyclickandgo.com.Information will only be sent to the email address on file for the customer name associated with it. We will endeavour to respond to your questions or concerns within 7 days.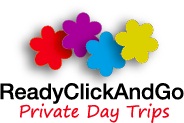 ---
Last Updated Monday, 7th July 2014