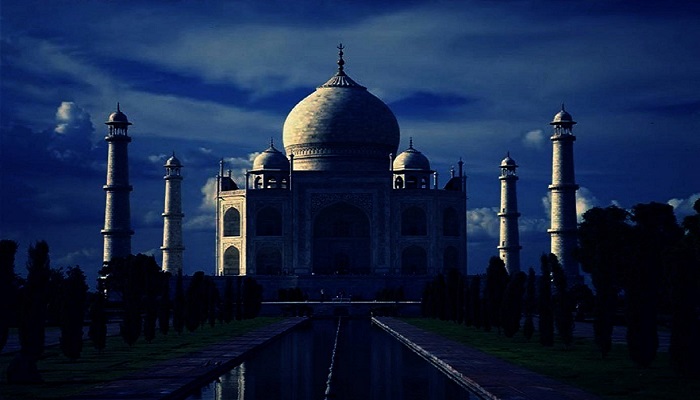 Visiting the Taj Mahal by Moonlight involves bureaucracy, tight security, the risk of fog in January and February and you aren't even allowed to get very close, but the silvery gleam of the white marble and the shimmer of precious inlay stones through the darkness makes it all worthwhile.
The Taj Mahal is open at night for five nights a month when there is a full moon, and for 2 days before and 2 days after– except on Fridays when it is always closed for prayer and during the month of Ramzan (Ramadan).
You have to apply for tickets the day before you want to go, you cannot buy them for the same day. To get there you go to the Shilpgram parking lot (from the eastern gate of the Taj Mahal it's past the Oberoi Amarvilas Hotel) between 10am and 6pm, and from where you will be collected and taken by van to the office. You will need to take your passport so that your name, date of birth, nationality and passport number will be recorded, tickets cost 750 Rupees and are not transferrable. Each evening, 400 people in 8 groups of 50 are allowed to the first platform which is about 350 metres away from the main building, for 30 minutes between 8.30pm and 12.30am, but you must get there half an hour before the time on your ticket for security checks and x-rays. You can bring binoculars and cameras but not video cameras, handbags, tripods, tobacco, matches, food or mobile phones.
Full moon dates in the 2015 are as follows, so you can apply to see the Taj Mahal by moonlight on these dates plus 2 days before and 2 days after;
4th January 2015
3rd February 2015
5th March 2015
3rd April 2015
3rd May 2015
2nd June 2015
1st Jul 2015
30th Jul 2015 Blue Moon, second full moon in July
29th August 2015
27th September 2015
26th October 2015
25th November 2015
24th December 2015
23rd January 2016
22nd February 2016
If you would like to visit the Taj Mahal by moonlight but are not able to buy tickets 24 hours in advance,ReadyClickAndGo can arrange the entry tickets for you as part of their selection of private day trips in Agra with your own guide, car and driver. If you are not staying in Agra you can book a same-day Agra tour from Delhi, and a comfortable, air-conditioned car will pick you up from your hotel in Delhi and take you to Agra where you meet your guide for the day. After exploring Agra Fort and the 'baby taj' you can enjoy viewing the Taj Mahal before returning to your hotel in Delhi. Email Tara Today at tara@readyclickandgo.com