The Matica Srpska Gallery in Novi Sad is to be found in the old Stock Exchange building and it has more than 7,000 works of art, especially that from Vojvodina from the 17th centuryonwards. All the exhibits have English translations. On the ground floor are copies of the frescoes painted by Christopher Zefarovic at the Bodani Monastery in 1737, on the first floor are paintings and carvings, including precious icons from the Orthodox churches of Vojvodina. The second floor has a permanent exhibition called People andEvents, and displays pictures from 1900 to 1940 when the country was fighting for freedom and its national identity, and on the third floor are superb paintings from some of Serbia's greatest artists, classic, romantic and realist – Constantine Daniel, Dure Jaksic, Uros Predic, Paja Jovanovic, Save Šumanović and Milan Konjovic. There are also the famous paintings 'The Cockfight' and 'Wounded Montenegrins' and one by Jovanovic for the World Exhibition in Paris in 1900, a huge historical composition, 'The Proclamation of Dusan's Law'. The Matica Srpska Gallery is open from Tuesday to Sunday from 1000–1800, Friday 1200-2000. The entry fee is RSD200 whcih is around 2 euros. Try to visit during the week as there will no one there except you and you can have the whole place to yourself.
Next to the Gallery there is the Memorial Collection of Pavle Beljanski who was a diplomat and huge lover of art who dedicated his collection to the Serbian nation. This gallery is open Wednesday to Sunday 1000–1800 and on Thursdays from 1300- 2100. Entry is RSD300.Opposite these two galleries there is another, this time of a collector called Rajko Mamuzic who also dedicated his collection to the Serbian people – it is well worth a visit and is also free of charge.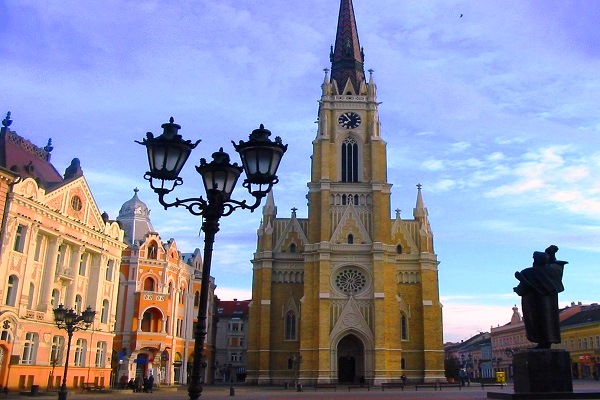 On the way back to Belgrade we stopped at the Musuem of Bee Keeping and Wine Celler at the Zivanovic family home. We met Mr Zarko Zivanovic whose great-grandfather was a professor at the famous Karlovac grammar school but was also the founder of modern beekeeping in Serbia and a man who had a great knowledge of wine making.In the family house is a unique beekeping museum with objects you rarely see nowadays but which used to be common – such as beehives made of thin strips of dried wood woveninto a dome shape and covered in mud – very different from the beehives made today.
Extracting honey in the old days was rather hit-and-miss and of course, there were no protective clothes then either – but people did believe that beestings were good for the blood! The honey at the Zivanovic farm is very clear and thick, not runny, which shows there are no preservatives added, unlike what you get in a supermarket.
Along with beekeeping and producing high qualilty honey the Zivanovic family is at the forefront of wine production in Serbia and are winning awards, diplomas and medals at home and internationally. They own huge vineyards 200 m above sea level near the Danube on the slopes of the Fruska Gora mountain, and their wine is produced in 300-year-old cellars. Their Ausbruch wine was on the wine list on the Titanic. Their greatest secret is the old recipe, passed down through the generations, from which is prepared Bernet wine, and this Bernet was served at the Russian, English and Viennese courts right up until the First World War. Similar to Port but much stronger, it is made from natural wines with the addition of 27 different ingredients such as raisins, beans, mustard, nutmeg, vanilla and figs. If you are passing through Novi Sad visit this unique place and you won't regret it – you can book combined visits to the museum and the wine cellar with wine and honey tastings too. As an added bonus I would recommend you try to sneak inside Mr Zivanvic's house to meet his grandmother, a beautiful, charming lady with an unbelievable zest for life which I guess is the result of plenty of healthy honey and fine wine!
For more information about Serbia and travelling to Serbia please email Tara@ReadyClickAndGo.com